Since the beginning of 2021, Dr. Josef Peták, the chief physician and owner of the Spa Sanatorium, has been intensively devoted to post-covid therapy - especially with the help of molecular hydrogen®. In doing so, he draws mainly on scientific evidence of the positive effects of molecular hydrogen on post-covid syndrome, which was first presented to the world public by Associate Professor Michal Botek from Palacký University in Olomouc - we wrote here.
However, it is also interesting to note that the Dr. Peták Spa Sanatorium (as the official name of this medical facility is) had been using molecular hydrogen in wellness treatments for two years before the outbreak of covid. The traditional spa treatment has been enriched with molecular hydrogen in this sanatorium since 2018. And it has shown good results especially in the cardiovascular field, for chronic musculoskeletal disorders, inflammatory bronchial disease and lung disease. Even before the wave of covid, the guests of the sanatorium themselves requested molecular hydrogen during repeated stays - its application in the form of inhalations, drinking cures, tablets, adding hydrogen to baths or to gels during massages.
In his successful treatments enriched with molecular hydrogen, Dr. Peták closely cooperates with experts from all over the world (including Japanese scientists - discoverers of the "miraculous" effects of molecular hydrogen), but especially with experts from the H2 Global Group. It has been working with them intensively for 5 years and together they have developed a spa methodology using molecular hydrogen in all treatments. The spa thus enhances the effects of natural mineral resources and "wise" (as Dr. Peták says) molecular hydrogen.
The Dr. Peták Spa Sanatorium is located in the picturesque, peaceful surroundings of Františkovy Lázně. It was built 22 years ago as the first spa house since 1938, which grew on a "green meadow". The sanatorium grounds are surrounded by a beautiful natural forest park and its own botanical garden with an outdoor swimming pool and beautiful relaxing corners. It is a popular sanatorium that prides itself on excellent spa care.
We asked MUDr. Josef Peták for an interview.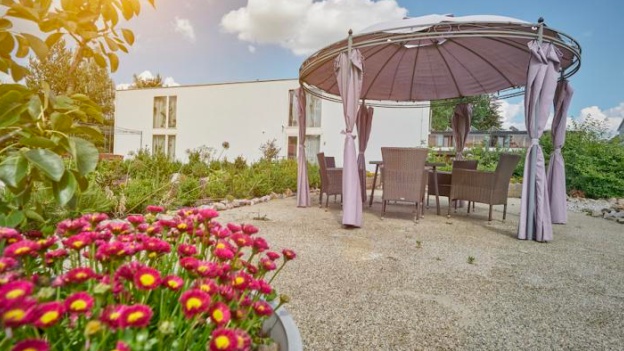 Doctor, what is the interest of people suffering from post-covid syndrome in your sanatorium, or rather in treatment procedures enriched with molecular hydrogen?
In the summer, the interest dropped significantly, but in the coming autumn months I expect numerous new requests. In the first nine months of this year, we have provided care to approximately 980 guests. Approximately 95% of them suffered from post-coital difficulties. We confirmed the dramatic effect of molecular hydrogen for a number of complaints - mainly shortness of breath, shortness of breath, chest tightness. Improvement occurred after only three days of stay in chronic cardiac patients, asthmatics, fatigue burnout syndrome, sleep disturbances - especially in nightmares that patients suffer from after covid.
Could you briefly introduce post-covid therapy in your sanatorium?
We have developed our own comprehensive post-covid spa programme. It is a classic Franciscan spa treatment, combined with 5 ways of using molecular hydrogen.
What does molecular hydrogen therapy involve specifically?
It involves several procedures that need to be followed comprehensively by our clients. Then the effect of molecular hydrogen therapy can be expected in the spa after only 7 days of stay. Namely, the following procedures:
- inhalation daily (possibly 2 times a day)
- drinking water enriched with molecular hydrogen 1 to 3 times a day
- adding molecular hydrogen to each spa treatment
- take a tablet of molecular hydrogen H2 FORTE 3 times a day
- drink H2 Immunity DRINK - 1 time per day
If your clients feel better after such treatment, do you think they should continue to use molecular hydrogen?
Yes, I would recommend to continue with the use of H2 Immunity DRINK in everyday life, preferably also in inhalation of molecular hydrogen - for long term effect.
Pictures: Lázeňské sanatorium Dr. Peták s.r.o.