From 1 December 2022, we will bring you H2 TIMES not only online, but also as a printed newspaper. The printed H2 TIMES is also intended for the general public and professionals. It is the world's first 'hydrogen' newspaper. It is full of news and interviews about the latest trends in the practical use of molecular hydrogen (health and beauty care, wellness, sports, crop cultivation, livestock farming...) and hydrogen in general (transport, energy, industry...). The newspaper is published by H2 TIMES s.r.o.
The initiator and founder of H2 TIMES, President of H2 Global Group, David Maršálek, in an introductory interview with this newspaper, answers the question why he decided to publish H2 TIMES: "The best year to start new hydrogen projects is 2022. I'm very concerned about people learning how much hydrogen can benefit them. Especially in terms of health and quality of life in general. I feel that's my main mission in life. I would like to see molecular hydrogen help every family. Make everyone better off. And H2 TIMES is one way to achieve that goal. It's the first hydrogen newspaper about a better future, and we're offering it here and today."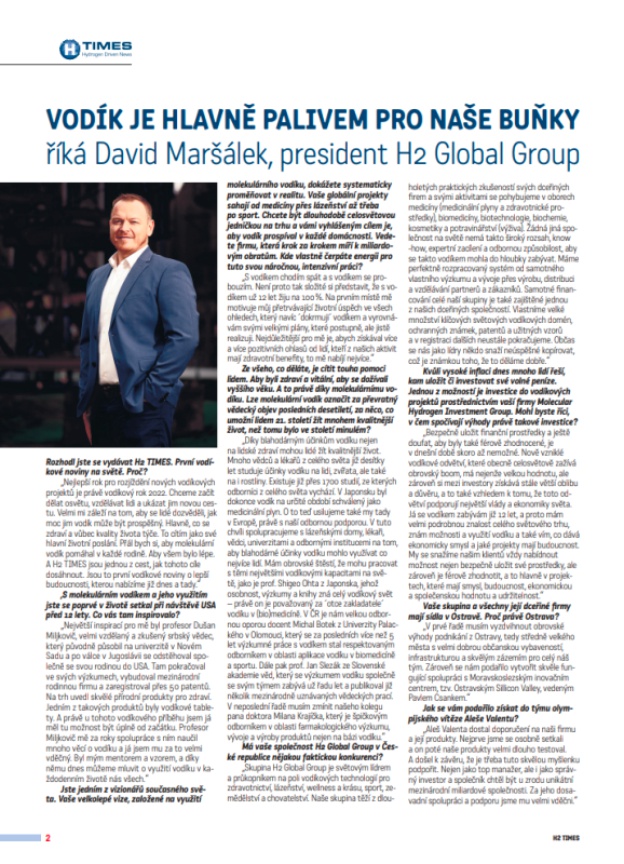 The centerpiece of the first issue of the print H2 TIMES is the introduction of a unique, grandiose future city project - H2City.com, developed by H2 Global Group. In the issue you will also read, for example, our report from a visit to Janské Lázně Spa, where our colleague (Selfienity) underwent all the spa treatments with the beneficial effects of molecular hydrogen. Or for example the introduction of the hydrogen supercars of today. And as an "icing on the cake" we bring you a competition in the newspaper: you can win a hydrogen bottle (Molecular Hydrogen® generator) from H2 WORLD HEALTH & BEAUTY COMPANY!
You can easily order them for the price of postage in our shop: H2World.store